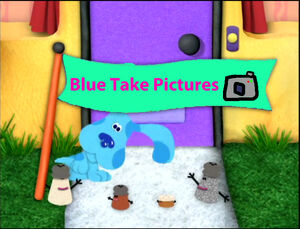 Blue Take Pictures Is an episode from season 7.
New debuts
Edit
Eyed tree and Ball toy.
Cast
Blue
Joe
Sidetable Drawer
Mailbox
Tickety
Magenta
Mr Salt
Mrs Pepper
Paprika
Blue has a new camera. As so, They take a hunt. First they find a book, Then a tuba, And then a car. They all had a blast making the tower.
Released: June 17, 2002
Clues & Answer
Book
Tuba
Car
Make A Parade
Trivia
Joe Has The Same Hairstyle From The Big Book About Us & Wears A Green Square Shirt
The To Play Blue's Clues Clip Is From Can You Help
The Mailtime Clip Is From Can You Help
Blue Skidoo We Can Too Song Is From I'm So Happy
The So Long Song Clip Is From The Snack Chart
Ad blocker interference detected!
Wikia is a free-to-use site that makes money from advertising. We have a modified experience for viewers using ad blockers

Wikia is not accessible if you've made further modifications. Remove the custom ad blocker rule(s) and the page will load as expected.