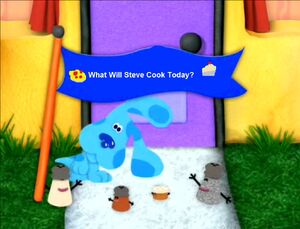 What Steve Cook Today? Is the 20th episode of season 8.
Characters Present
Edit
Shelley, Joe & Steve welcomes the viewer into the Blue's Clues house, saying that Blue are hungry or because it is lunch time. The viewer agrees to help out, but it seems at first like Shelley, Joe, Steve & Blue are already finished. Then, Shelley notices that Blue has not taken her fork out and so Blue puts it out. Shelley asks Steve what does she want to cook since the accesories are Blue already put out. Blue places a pawprint on the screen, letting Shelley know that she will have to play Blue's Clues to find out. He finds Sidetable & retrieves her Notebook. Blue & Shelley spot an overheating stove and turn it off together. As Shelley turns it off, she spots a clue on a Bread. She draws it in her Notebook. They walk to the kitchen where they say hello to Joe Cook Hake Medallion, Mix Egg And Hake And Covers The Mix Of Egg And Hake With Breadcrumbs. Shelley and Blue ignore him, and walk out of the kitchen. Later, Shelley & the viewers find Blue, who hops into a trampoline, causing a scratch. Soon, the second clue, The Food Grater, is found. Shelley Draw In The Notebook. She retrieves the mail from Mailbox. Later, Shelley and Blue skidoo into The Farm, where they find 10 Sheeps of Little Bo Peep. As She Leaves, She Spots A Clue On a Chicken. She draws A Fried Chicken it in his notebook. She then realizes that she has found all three of Blue's Clues and goes to the Thinking Chair. She figures out that Blue wants to eat Chicken Milanese. Soon, Joe get the Hake Medallion Prepared, And Sit In The Chair To Lunch Chicken Milanese. Shelley, Joe & Steve Sings The So Long Song,  And Zoom Out The Camera To The Credits The Credits Roll.
Bread
Food Grater
Chicken
Correct Answer
Edit
Chicken Milanese
Incorrect Answer
Edit
Shredded Fried Chicken Covered By Breadcrumbs
Ad blocker interference detected!
Wikia is a free-to-use site that makes money from advertising. We have a modified experience for viewers using ad blockers

Wikia is not accessible if you've made further modifications. Remove the custom ad blocker rule(s) and the page will load as expected.